Choose Your City From The List
Toronto | Markham | Mississauga | Richmond Hill  |  Scarborough | Thornhill | Vaughan
Heating Ontario believes that regular furnace service is the key to keeping your home comfortable all year long. A once-yearly check of your furnace will ensure that it perform properly and avoid any catastrophic breakdowns.
We recommend furnace service in Toronto once a year, ideally in the late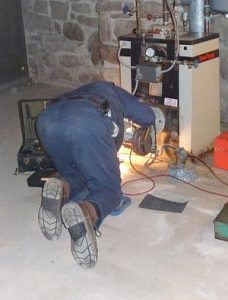 summer or early fall. Having your furnace maintained and cleaned will ensure that you avoid any issues during peak winter months, when furnaces are running almost constantly. Our expert technicians perform furnace maintenance, along with furnace cleaning in Toronto, giving you peace of mind that your home will be warm and comfortable. We perform a thorough inspection of your furnace, clean, fix and replace any parts that are showing signs of wear and tear. It is this yearly maintenance that will keep your furnace operating at peak efficiency, and help extend the life of older furnaces. Furnace service is the best course of action to keep your furnace in the best possible condition.
Heating Ontario performs furnace service throughout Toronto and the GTA. If you'd like us to come inspect your furnace, just fill out the contact form for your area, and one of our friendly representatives will be in touch to schedule an appointment.