Heating Ontario is proud to install, service and repair Rheem tankless water heaters.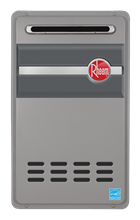 Rheem is well known for their gas, electric and solar powered tankless water heaters. You can control the temperature of a Rheem tankless water heater with the touch of button, making this the perfect brand for families with small children. You can choose from compact indoor and outdoor model that will save you money and keep up with all your hot water demands.
For more information, please fill out the form below, and a Heating Ontario Rheem tankless water heater expert will be in touch with you shortly.