Inventor Elon Musk is well known for his Tesla electric cars, semis, Cybertruck and SpaceX (with his intention to colonize Mars by 2050), but fewer people are aware about several other divisions that he has created. The Tesla mission is to "accelerate the world's transition to sustainable energy", and so the company also produces energy products: Powerwall, Powerpack and Solar Roof to help homeowners & businesses to begin adapting their own renewable energy resources.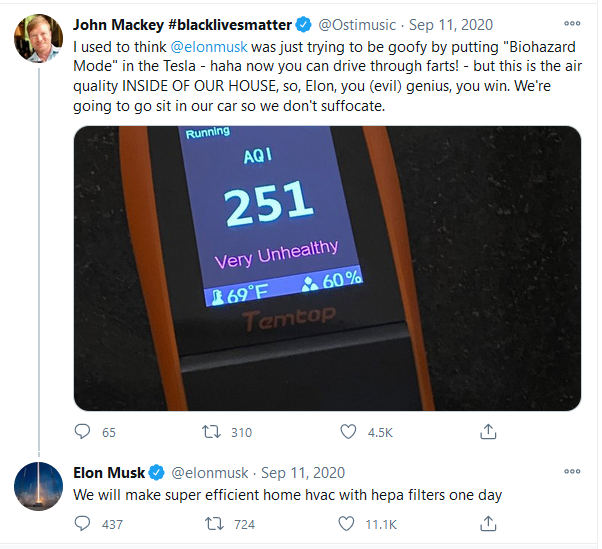 HVAC stands for Heating, Ventilation & Air Conditioning, which affects the climate control and air quality in homes, buildings and vehicles, something Tesla knows a little bit about.
On a talk show with Joe Reagan in May 2020, Elon Musk alluded to the possibility of developing an HVAC system for the home stating:
"Sure, would love to do home HVAC that's quiet and efficient, with humidity control and HEPA filter."
This isn't a stray from normal product development since in their own vehicles, they've created new HVAC systems suitable for electric cars and trucks. In traditional combustion engines, heat from the engine can be redirected into the cabin for adjusted comfort. In electric cars however, battery power must be converted into heat produced by resistance. This is very hard on battery power, so Tesla has had to patent new HVAC systems with HEPA filters for their own vehicles, creating a heat pump in model "Y" models.
The heating and cooling system in your home accounts for at least 40% of your utility costs in winter, rising up to 60-70% in hot summer months. If Tesla could produce an HVAC system that could significantly reduce this cost, it would be a real game changer for the industry. Certainly, if they can produce efficient systems for their own vehicles, there must be something viable for home owners in the way of heating, cooling and air. If today's best air filtration systems replace the entire air in a building once or twice an hour, you could expect no less from Elon Musk.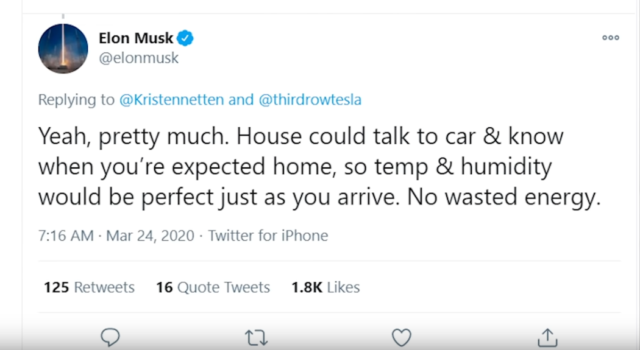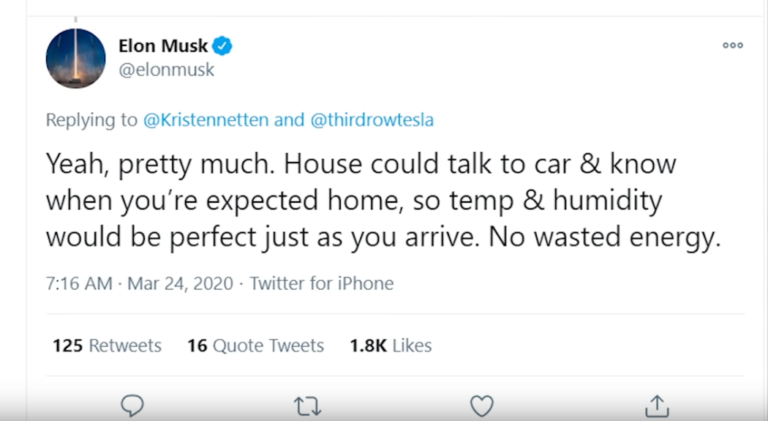 As the hepa filters in Tesla cars remove particles, viruses and bacteria from incoming cabin air, this will be the next step towards creating a safe breathable air within the home. At the same time, Musk wants to convert the water evaporated from A/C systems into clean drinking water.
Assuming the Tesla system would incorporate into your home's existing duct work, a retrofit might be something the average family homeowner could afford, especially considering the long-term payoff. You could also count on individual room by room smart environmental vents, automatically detecting someone entering or leaving a room. Obviously, this system would also have some A.I. component to it that would learn your family's room use/ entry & exit patterns and adjust the entire system constantly to maximize your energy usage.
At least one some if not all Tesla HVAC models would work in conjunction with their Powerwall home battery system (storing 13.5kWhrs hours of energy) which stores energy from their solar panel system. The average home uses about 28kW hours/day so with two of these connected to your home's electric system, it could be enough to get you off grid (unless you also have Tesla cars that need to charge). Tesla's durable solar panel tiles look like roof tiles, but are much stronger than either solar panel or roof tiles. You can replace your whole roof with these tiles which have a 25 year warranty and can stand up to 166mph winds.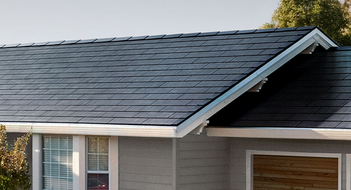 If the Tesla HVAC becomes a success for Elon Musk, more smart home products will be expected shortly after down the road. Could this include internet of things, lighting, plumbing, electrical, media and security systems? As Tesla makes its way into the home improvement arena, we can we'll be able to expect only high-quality systems that will fit into the Tesla mission of accelerating the transition to a more sustainable future.
We have no idea of a launch date, but rest assured, when it's available in Canada, HeatingOntario.ca will be one of the first to offer it. In the mean time, if you are looking to improve your home/office HVAC system or are looking for a quote for a new system or repair, you can reach us by: filling out the form below or call us directly at: 647-591-2683