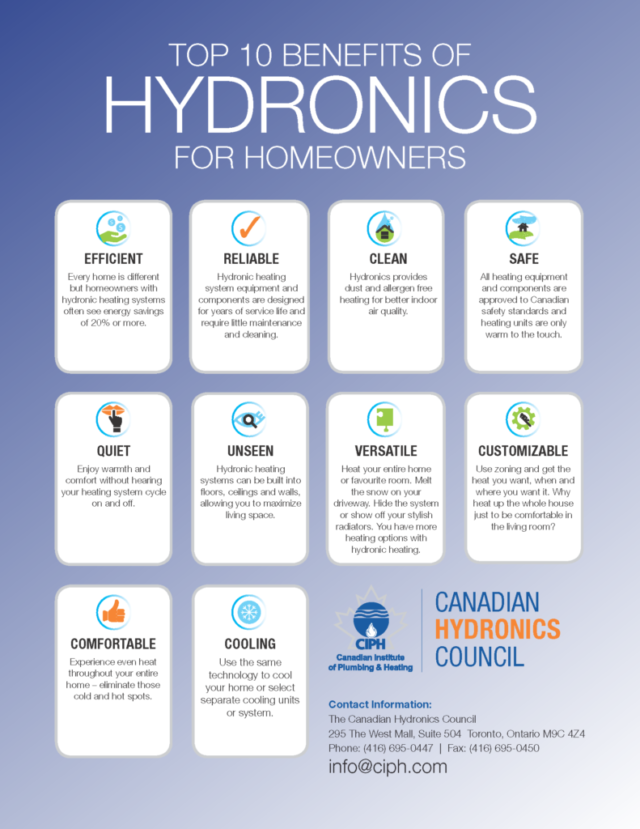 Hydronics is a very efficient way to heat and cool your home using in-floor, and/or in wall tubing filled with a liquid such as hot water – much like radiators, but are hidden instead of taking up valuable floor space in front of windows. There are many benefits to opting for this type of system not only in a new home build, but can be adapted into existing homes.
A hydronic system requires a boiler that will take up some space in your basement or utility room, or a tankless water heater that hangs on a wall. Tankless systems have coils that the water/glycol runs through and is heated to high temperatures typically with natural gas. In the summer, the system uses minimal resources in its off mode. A manifold is usually created that allows each run of hose to be turned on or off individually for maintenance or reduced use. A heat pump can also be used to produce both the warm and cold fluids.
Installers of hydronics need to follow code set out by the Canadian Hydronics Council, which is a part of the Canadian Institute of Plumbing & Heating (CIPH), regulating standards for Canada's hot water heating industry for the past 40 years.
In addition to CHC guideline, an installer may be required to also have a gas fitter license, if installing any equipment heated by natural gas.
Perhaps one of the most useful benefit to hydronics is that it can be used to both heat & cool your home using the same pipes & equipment. You can use have hydronic baseboard heaters to replace electric ones if that's a route you want to explore.
Hydronic systems can be used for several applications:
In-floor or in-wall heating to heat an entire home
In-floor heating for a single room such as a master bathroom floor timed to turn on in the mornings
In garages and workshops to keep the spaces and vehicles warm
Outdoors to melt snow on contact on walkways, driveways and sidewalks
For heating swimming pools
For heating greenhouses or pool-houses
Benefits To Hydronic Floor Heating Systems
Hydronic Systems are quieter than other heating systems.
Heating systems with fans and blowers such as forced-air furnaces, ductless mini-splits, space heaters, and even gas fireplaces, and electric baseboard heaters all make noise. This can not only interrupt sleep, but are also inconsistent in their sounds they produce as the metal expands and contracts. With moving mechanical parts, these systems have a limited lifespan.
Traditional Heating Systems create more dust.
With forced air, blower and fan systems, dirt, dust and pet hair are constantly being blown around the house through air vents and can cause health issues for those with breathing and allergy issues. Dust is created with shoes, dirt roads, pet hair, wood fireplaces and cooking. Hydronic systems do not cause dust to be stirred up at all and is a clean solution for health challenges.
Hydronic Systems Last Longer
Hydronic Systems typically last 25 years and have less maintenance due to fewer moving parts. There are also no filters to replace as there is no moving air travelling through a blower.
Hydronic Systems are Healthier Than Other Systems
Unlike forced air furnaces and ductless mini splits, hydronics produce consistent floor heat throughout the space, and do not create wind currents which can stir up mold, bacteria, dirt, dust & allergens. As hydrons flow through walls and floors heating up the spaces, this reduces the amount of moisture in those areas, reducing the chances of mold and mildew accumulating in those areas.
Hydronically-Heated Systems Are More Comfortable
Not only do heated floors heat up the air above them, they heat up the floors under you, so you no longer need to step onto a cold floor on your way to the bathroom in the middle of the night.
Hydronic systems are More Cost-Effective Long-Term
Although a hydronic system may be a little more to install initially, they are cheaper to maintain, and can cost up to 70% less to run long term – compared to oil furnaces or electrically powered heating such as baseboard heaters. The boilers are heated with natural gas which is one of the cheapest heating fuels available to most Canadian homes.
Hydronics Are Hidden
Because hydronic systems are hidden in floors and are operated with small diameter tubing, they take up less space and can be installed/retrofit into areas that are virtually impossible to run duct work. This makes them very versatile for both residential & commercial applications that don't have traditional forced-air ducts.
Never Shovel Snow Again
In most parts of Canada, winter snow is a yearly reality we live with for up to 6-8 months. If you install a hydronic system for your walkway, driveway and sidewalk, you will never have to shovel again, saving your time, back and possibly even your marriage.
So if you are looking for a non-conventional, cost-effective solution for heating your home, garage, driveway, or even your pool, give us a call at: 647-591-2683 or just fill out the form below and we'll be happy to give you a quote on how we can help you stay warm and cozy with a hydronic floor system.